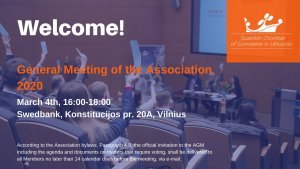 Dear Members,
due to the risk of Corona virus, the GMA on 4th of March will be only held in writing, i.e. the physical participation at Swedbank – is CANCELLED!
The voting in writing will take place on the 4th on March between 09:00-17:00 o'clock.
SCCL Members shall be provided with voting bulletin via email and will be asked to approve the draft agenda, Nomination Commission's candidate suggestion along with the amendments of the Articles of Association in writing and with signature (either signed by hand or electronic signature is allowed).
More details on the voting in writing procedure will be provided on 4th of March by email.
Thank you for your understanding and cooperation!
Please find the relevant documents here: Report 2019, GMA agenda 2020.