Business Mission to Uppsala 2023, 24-26 May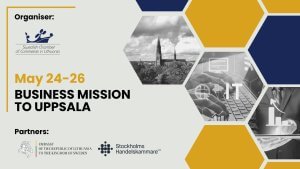 With all the macroeconomic uncertainty in the world, it is a good idea to step up the cooperation between Sweden and Lithuania. Together  our partners Embassy of the Republic of Lithuania to the Kingdom of Sweden and the Stockholm Chamber of Commerce in Uppsala we invite you to join us.
DATE: 24–26 May, 2023
PRICE: For members of SCCL 800€, for non-members 1200€ (flights, accommodation and other transport not included)
PROGRAMME:
1st DAY: 24 May
7.00 Departure from Vilnius (SAS) | 7.10 Departure from Riga (AirBaltic)
7.25 Arrival at Arlanda airport
8:30 Direct bus to Uppsala Science Park
8:45 Uppsala Innovation Hub and STUNS
Welcome words and intro about the region by the regional manager at the Stockholm Chamber of commerce in Uppsala, Tomas Stavbom
12.00 Lunch at the Hub
13.00 Bus to Green Innovation Park at the Swedish University of Agricultural Sciences (ca 15 min)
13.30 – 16.30 Fika and matchmaking at Green Innovation Park Hall
Matchmaking with companies from Uppsala, selected from sectors that match the delegation.
16.30 Bus to the hotel (pre-booked place: Scandic Grand Central Hotel)
17.00 – 18.30 Free time
18.30 Dinner, with participants from Uppsala Municipality, Lithuanian Ambassador Giedrius Čekuolis, Commercial Attaché of Lithuania to Sweden, Stockholm Chamber of commerce in Uppsala, and the Business Sector and Major Business Companies in Uppsala.
21:00 Continued networking at some pub/bar
2nd DAY: 25 May
8:00 Breakfast at the hotel / Briefing of the agenda of the day (if all are in the same hotel)
8.30 Bus to Uppsala Business Park (ca 15 min)
9.00 Development of the life science community at Uppsala Business Park
Introduction and presentation by Anna Mankert, Community & Collaboration Manager, Uppsala Business Park
10.00 Fika and networking event:
"Bio-Works" company from UBP propose their space;
Visit two (Life science) companies in UBP
The representative of Lithuania will present the situation of Life Science in Lithuania
12.00 Bus to Uppsala city center
12:30 Lunch with the Lithuanian professionals in Uppsala in the city
14.00 Free time and private sightseeing with LT community in Uppsala. Castle, Cathedral, City Center
15.15 Back to Hotel pick up things and go directly to the train Station
17:20 Check-in at the hotel in Stockholm
18:30 Networking evening with LPS CLUB in the Residence of the Lithuanian Embassy in Stockholm
3rd DAY: 26 May
6:30 Breakfast at the hotel / Briefing of the agenda of the day (if all are in the same hotel)
7:40 – 8:10 Train to Södertälje train station
8:15-8:30 Bus from Södertälje train station to SCANIA park
08:30-10:00 SCANIA presentation/meeting at Demo Centre (meeting with purchase/production departments).
10:00-10:30 Coffee break
10:30-12:00 Demo drive (driving Scania vehicles)
12:15-13:15 Lunch MW-Hall
13:15-14:00 Guided tour M-Hall (Scania museum)
14:15-15:30 Guided tour engine (visit to Scania engine line production plant)
15.30 Departure to Södertälje train station by bus
15.46 Train to Arlanda airport
19.05 SAS direct flight to Vilnius | 20.20 AirBaltic direct flight to Riga | 20.25 Ryanair direct flight to Kaunas
If you are interested in the Business Mission to Uppsala on May, please, fill out the registration form we will contact you soon with more information. For questions, please contact viktorija@swedish.lt