Welcome to join our Working Group meeting with special guests and exclusive topic – Corporate Swedish Culture – not a buzzword, but a key to business success!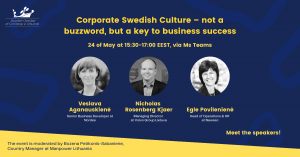 Time: Monday, May 24th, 15:30 EEST
Venue: MS Teams
Price: Free of charge for members of SCCL only
Please register HERE until 23th of May!
Hope to see you at the event!