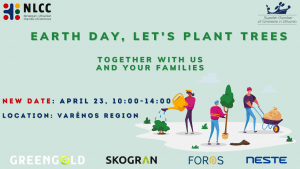 Swedish and Norwegian Chambers of Commerce in Lithuania together with our members GreenGold, Skogran, Foros, and Neste invite you to celebrate Earth Day and plant trees together with your families on the 9th of April in Varėna Region!
Date: April 23 (Saturday), 10:00-14:00
Location: Varėnos r. sav., Jakėnų sen., Paručių k. (54.316221972052645, 24.59873950926715)
The event is free of charge and for members only. 
Event details: coming to the location by private cars; lunch, beverages, and tent will be provided; outdoorsy program for kids (stories about the forest as well as hanging nesting boxes); important to wear comfortable outdoor clothing – prepare for rainy weather and wear comfortable trekking shoes.
More details will be given after registering for the event.