On behalf of all organizers, we would like to warmly invite You to the NORDIC-BALTIC SUSTAINABILITY SUMMIT 2019!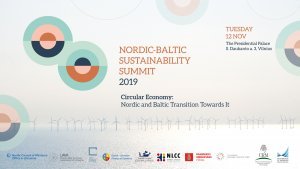 This year's topic is "Circular Economy: Nordic and Baltic Transition Towards It". The Summit will gather Nordic and Baltic business and political leaders, also high–level OECD representatives, inviting to discuss one of the most difficult sustainable development challenges – a transition towards the circular economy, and the strategies of making this process fair, just and inclusive.
Date & time: 12th of November at 08.30
Venue: The Presidential Palace, S. Daukanto a. 3, Vilnius, Lithuania
Price: free of charge, but registration is required
Register until 5th of November by clicking here.
The program You can find here.