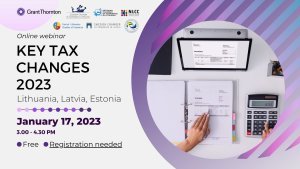 Webinar: Key tax changes in Baltics | 2023
We invite you to join our member Grant Thornton Baltic online webinar "Key Tax changes in Baltics 2023".
Main finances experts will discuss the following relevant topics for business:
Payroll taxes;
VAT changes;
Changes of Corporate income tax law;
Changes in tax administration;
Upcoming tax reform;
During the seminar there will be an opportunity to ask your questions.
Main Speakers from Grant Thornton Baltic:
Vykintas Valiulis, Partner, Head of Tax and Advisory services (LT);
Mārtiņš Lubgans, Tax manager (LV);
Kristjan Järve, Partner, Head of Tax services (EE).
Date: 2023 01 17
Time: 15:00-16:30
Venue: online
Participation: free of charge, must register before January 16, 2023
Registration:  https://events.teams.microsoft.com/…/d371a6c6-3035-4bba…  You will receive an e-mail with instructions and a link to a call to the Microsoft Teams platform
Price: Free of charge
Online webinar will be recorded