We are very happy to invite you to our annual New Members Evening! It is a great time to get to know new members of SCCL and mingle around!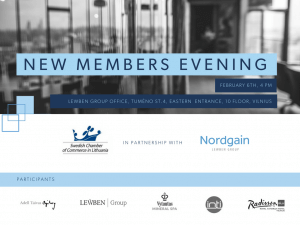 SCC has refreshed the New Members Evening concept! Here comes a brilliant opportunity for our long-standing members to be more active and showcase their companies by hosting the event. Therefore, this event is hosted by SCCL member-company "Nordgain (Lewben Group)".
Time: 6th of February (Tuesday) at 16:00
Venue: Nordgain, A. Tumeno str. 4, Eastern entrance, 10th floor LT-01109 Vilnius, Lithuania.
Price: free of charge and for members only.
RSVP to info@swedish.lt until 2nd February.
More about Nordgain and Lewben Group:
Nordgain is a dynamic, client-centric and innovative finance and accounting (F&A) service provider, delivering business flexibility and efficiency, focused on top quality for mid-market prices, based in Lithuania and active in selected international territories. Since 2013 Nordgain is a part of Lewben Group.
Lewben Group is an international group of companies providing clients with asset, wealth, and fund management services, as well as financial planning services, legal, tax, business consulting, and accounting services. The group has offices in Amsterdam, London, Manila, Nicosia, New York and Vilnius.