Dear Members,
We are very happy to invite you to the New Members Evening! It is a great networking opportunity and the best chance to get to know new members of SCCL! Come to meet our new members Arista executive search, Blue bridge, Fondia Lithuania, Klappir, Litnobiles, Gintarė Litvinienė (1st Fan-club member of SCCL), SAAB.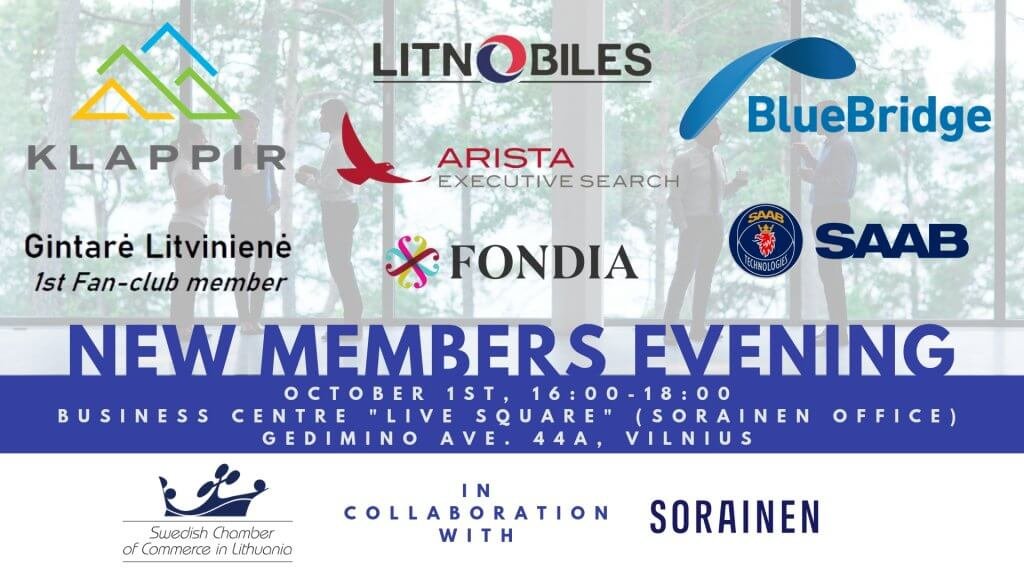 Time: Tuesday, October 1st, 16:00-18:00
Venue: Business centre "Live Square", Gedimino Ave. 44A, Vilnius
Price: free of charge and for members only
RSVP to info@swedish.lt until 27th of September.
The event is organized in collaboration with our Member-company Sorainen. They will host us at their new premises!
More about Sorainen law firm
Sorainen is a leading fully integrated regional business law firm with offices throughout the region, in Estonia, Latvia, Lithuania, and Belarus.
With 32 partners and more than 200 lawyers and tax specialists, the company has the resources to support clients on all business law and tax issues involving the Baltic States or Belarus. Founded in 1995, the firm has more than 80,000 cases on its track record, along with over 1000 M&A transactions to date.