We invite you to join us at the annual Nordic-Baltic Diversity & Innovation Conference and get to network with globally renowned speakers!
This conference aims to glance at the trends of diversity, and inclusion in innovations in the international business and political arenas. Seize this extraordinary opportunity to listen to top executives of international corporations and high-level experts.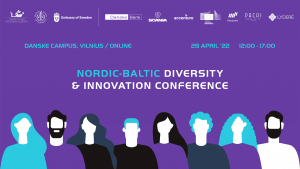 Date: April 28, 12:00-17:00 
Venue: Danske Campus, Saltoniškių g. 7b, Vilnius (DC Valley) / Online
Following the success of the first Gender Diversity & Leadership in the Nordics-Baltics conference last year, we are excited to announce that the Diversity-focused event is becoming a regular annual event. Even though diversity is a broad topic, this year we will be focusing specifically on gender diversity. Gender diversity can accelerate financial performance, improve business resilience as well as higher employee engagement. In addition, diversity is a key driver of innovation and is a critical component of being successful on a global scale. Moreover, innovation increases significantly when the workforce includes a nontrivial percentage of women in management positions. As the interest in how women in all fields of innovation can accelerate socio-economic sustainable development is gaining momentum, we are excited to invite you to join the conversation and are hereby inviting you to our second event dedicated to Diversity that is focused on Innovation.
Thus, this half-a-day conference will explore the aforementioned phenomena with specific case studies and success stories, focusing on the practical applicability, and will give you a chance to have a practical discussion on the matters of Diversity and Innovation in the Baltic and Nordic regions.
Join us by buying live or online ticket!
Hugely experienced speakers will be joining us to discuss Diversity & Innovation in the Nordic-Baltic, including:
🔹INGER BUXTON, H.E. Ambassador of Sweden
🔹ANDERS PAALZOW, President and Rector, Professor of Stockholm School of Economics in Riga
🔹 YACIR PERSSON CHELBAT, Founder of the Swedish Diversity Index Award
🔹 ŽYDRŪNĖ VITAITĖ, Co-Founder at Women Go Tech
🔹 MICHAEL EMIL OLINGER, Department Manager, Operational Excellence & Nudging at Danske Bank
🔹and many more!
The conference is co-organised with our member Stockholm School of Economics in Riga and Powered by the Embassy of Sweden in Vilnius. The event is sponsored by Danske Bank, Scania Lietuva, Accenture, European Commission, and Manpower Lithuania, in collaboration with Hotel PACAI and supported by Asociation 'Lyderė'.