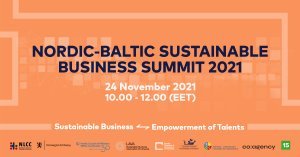 The Nordic-Baltic Sustainable Business Summit is an annual event focusing on corporate responsibility and sustainability issues. It discusses challenges that companies face while moving their business towards corporate responsibility and how governments and other stakeholders can help companies operate more sustainably.
The eighth Nordic-Baltic Sustainable Business Summit 2021 will be held remotely on the 24th of November under the topic Sustainable Business <-> Empowerment of Talents.
In this event, Nordic and Baltic region leading companies, researchers and non-governmental organizations in attracting and retaining talent recruitment and retention will answer questions as follows:
🔹 What are the successful examples of sustainability practices helping attract, maintain and empower talents in a post-pandemic world?
🔹 Is sustainability a catalyst for successful talent management, or are new talents catalysts for business sustainability practice development?
🔹 Blending sustainability & talent management functions – how Nordic-Baltic perspectives are different and exceptional?
🔹 Office-driven vs freedom-driven work practices – what will we see in dominating the labour market?
We invite you to participate in the Nordic-Baltic Sustainable Business Summit 2021 and remain a competitive market participant by discovering creative solutions to attract and retain the best talents.
Registration and Event Programme 
The Nordic-Baltic Sustainable Business Summit 2021 is organized by the Norwegian Embassy in Vilnius, Nordic (Norwegian, Swedish, Danish and Finnish) Chambers of Commerce in Lithuania, Nordic Council of Ministers office in Lithuania and Sustainable Business Association of Lithuania (LAVA) in partnership with CO:agency and 15min.lt.