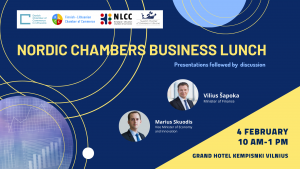 Together with the Norwegian, Danish and Finnish Chambers of Commerce in Lithuania, SCCL invites you to this lunch in Grand Hotel Kempinski Vilnius. We will be joined by Minister of Finance Vilius Šapoka and Vice-Minister of Economy and Innovation Marius Skuodis.
Moderator: Simona Oliškevičiūtė- Cicėnienė, Partner anf Head of Real Estate and Infrastructure Department at COBALT Lithuania
Date and time: February 4th 2020, 10AM-1PM
Venue: Grand Hotel Kempinski Vilnius, Universiteto g. 14, Vilnius
Price: €45 for members*, €65 for non-members
* members of Nordic (Danish, Finnish, Norwegian and/or Swedish) Chambers of Commerce
Registration is open until Thursday January 30st 2020. After this date there will be no refund, but substitutions are allowed.