Joint Norwegian-Lithuanian, Danish and Swedish Chambers of Commerce business Lunch is coming!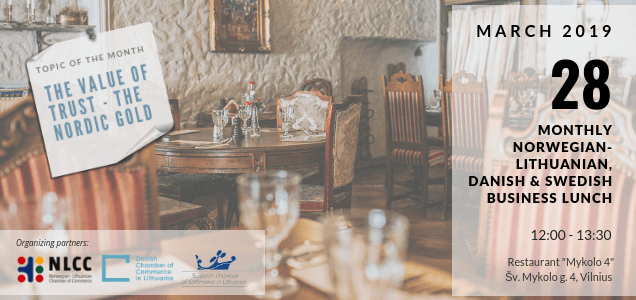 Smart business owners and managers know that success is not achieved solely by what they know or so, or how determined they are. It's a combination of factors, and at the core, it's also very much about who they know and who gains their trust. In life and business, relationships are key. 
This month three Chambers are inviting their members to mark their calendar for Thursday, 28th March when a joint Business Lunch at the restaurant "Mykolo 4" will be held. This is a great way to make contacts and raise the profile of your business, all in a friendly and relaxed environment.

We will start the event with a short presentation by Helén Nilsson, Director of the Nordic Council of Ministers office in Lithuania, who will talk about the role of trust as societal gold. So, join in 90 minutes of great conversation, information sharing and learning about other interesting people and their businesses.
Cost for NLCC, DCC & SCCL Members is 20€/person; for non-members – 27€/person.
Registration is financially binding, any cancellation made after 25th March will be charged. Substitutions accepted.