Welcome to Språkcafé !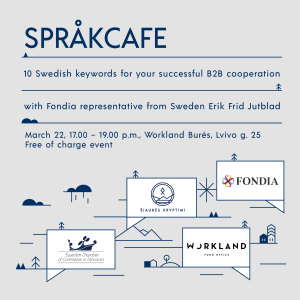 Swedish Chamber of Commerce together with Fondia, Šiaurės kryptimi, and Workland are excited to invite you to yet another but this time even more interactive "Språkcafe" event, because you will meet with experts of the Swedish language, culture and business: Fondia representative from Sweden Erik Frid Jutblad and the Swedish language lecturer at Šiaurės kryptimi Jelena Skovorodko!
lagom, fika, jämställdhet, and other Swedish words and expressions explained during the evening will help you feel more comfortable in Swedish business and private environment, enable you to establish and foster strong connections with partners and colleagues in Sweden. The peculiarities of socialising, work culture, or unexpected jokes will not trouble you anymore.
During the event:
Erik and Jelena will engage you in interactive and motivating activities
together with us you will have a traditional Swedish fika with hot drinks and snacks
You will be invited to participate in a quiz to assess your expertise in the Swedish language and culture and win commemorative prizes.
We are certain you will have a good time with us and feel that everything is just right – in other words, that it is the Swedish LAGOM.