Welcome to the first Språkcafé of the 2023!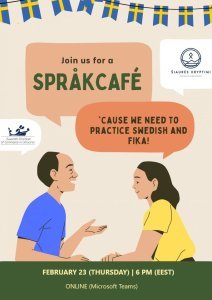 Join us with a cup of coffee and chat in Swedish with people who are also interested in discussing the day's news, practicing and improving Swedish vocabulary and use of phrases and have a nice and interesting Thursday evening!
"Šiaurės kryptimi" and the Swedish Chamber of Commerce in Lithuania invite both those who have already participated in the live Språkcafés and those who would like to join a bunch of people with similar interests and practice Swedish in an informal environment!
It doesn't matter what your level of Swedish is, all that matters is the willingness to practice the 
 language, to chat and meet new people! And if you haven't started learning yet, but are curious about how the language sounds – come, listen, and get inspired to start!
DATE: 23 February at 18:00 (Lithuanian time)
VENUE: online (Microsoft Teams)
REGISTRATION: https://forms.gle/oFEVKAwCiNeS6Bgh7
The event is free of charge.
 Microsoft Teams link will be sent before the event.
"Šiaurės kryptimi" Swedish lecturer Jelena will be there to help if you run out of words, so there's no need to worry – Språkcafé
is the space to improve your spoken Swedish skills, learn something new, broaden your horizons and expand your vocabulary.
Vi ses där!