SAVE THE DATE for business breakfast event on Sustainable Business: How To Go Green.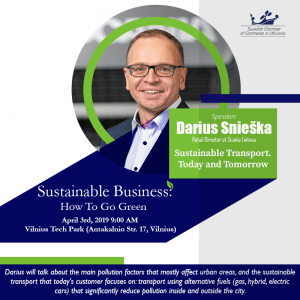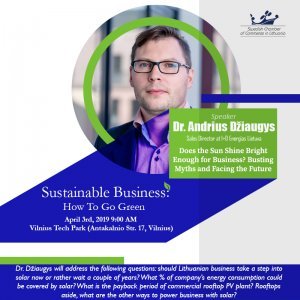 Our members Scania Lithuania and I+D Energy (SUN Investment group) will talk about the prospects of sustainable energy adaptation and future innovations in business. Meanwhile, Dr. Kęstutis Morkūnas (InnoEnergy) will share the experience in supporting green entrepreneurship.
Date: 3rd of April
Venue: Vilnius Tech Park (Antakalnio Str. 17, Vilnius)
Time: 09:00-12:00
Price: 25 EUR for SCCL Members, 35 EUR for Non-members
*Registration is financially binding, any cancellation made after 1st of April will be charged. Substitutions accepted. 
Program:
08:30-09:00 – Registration
09:00-09:05 – Start with the opening speech of SCCL Chairperson Andrius Francas; moderator introduces the programme
09:05-09:25 – Sustainable transport. Today and tomorrow | Darius Snieška, Scania Lietuva
09:25-09:45 – Does the sun shine bright enough for business? Busting myths and facing the future | Dr. Andrius Džiaugys, I+D Energias Lietuva (SUN Investment group)
09:45-10:00 – Supporting green entrepreneurship: EIT InnoEnergy CEE and Lithuanian experiences | Dr. Kęstutis Morkūnas, Head of InnoEnergy HUB in Lithuania
10:00-10:15 – Ministry of the Energy of the Republic of Lithuania | Lina Sabaitienė, Vice-Minister of the Energy of the Republic of Lithuania
10:15-10:35 – Ministry of the Economy and Innovation of the Republic of Lithuania | Jekaterina Rojaka, Vice-Minister of the Economy and Innovation of the Republic of Lithuania
10:35-11:15 – panel discussion: Darius Snieška (Scania Lietuva), Dr. Andrius Džiaugys (I+D Energias Lietuva), Lina Sabaitienė (Vice-Minister of the Energy of the Republic of Lithuania), Jekaterina Rojaka (Vice-Minister of the Economy and Innovation of the Republic of Lithuania), Dr. Kęstutis Morkūnas (InnoEnergy), Lina Blaževičiūtė (LAVA; moderator)
11:15-11:45 – networking & snacks
Moderator: Lina Blaževičiūtė (LAVA)