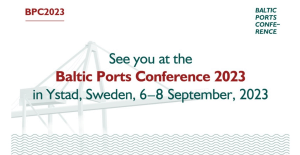 Our member
Ystad Hamn Logistik AB
is organizing
Baltic Ports Organization Conference 
on the 6th-8th September 2023.
The BPO Conference 2023 is hosted proudly by our port and the beautiful city of Ystad. We greet you cordially welcome to the most important event this year.
We will be there – will you?
Port of Ystad is facing the future by, amongst many things, developing the port infrastructure with new ferry berths to service the transport and logistic market, making it possible for vessels up to 250 meters length to call the port.
In the city centre of Ystad, shaped by trade and shipping over the centuries, you can wander among medieval oak half-timbered houses and hand-made bricks and grand 19th-century palaces. Our centre is like an open mall. Ystad is nestled in a hilly agricultural landscape. Here, castles, galleries, artisans and cafés come together, scattered like little pearls. The major events succeed each other: opera, theatre, markets, and festivals. Ystad also offers four miles of sandy beach facing south. Do not forget to bring your swimsuit!
More information and registration at: https://www.balticportsconference.com/