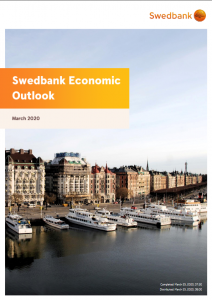 The spread of the coronavirus is paralysing the world's economies and many countries are heading for a recession. Governments announce new support packages daily, while central banks do whatever it takes to calm financial markets.
Read the Swedbank Economic Outlook (here) and see why despite massive economic-political responses, Baltic and Nordic countries will be hit hard. Hopefully, the slump will be short-lived, and we may see a fast return to normal.
Listen to the Economic Review by Swedbank's Senior Economist Nerijus Mačiulis (in Lithuanian) here.