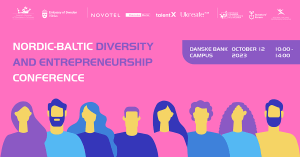 We are thrilled to announce that the diversity-focused event is now established as an annual tradition. For the third year in a row, the Swedish Chamber of Commerce in Lithuania, in partnership with the Embassy of Sweden in Vilnius, is organizing the Nordic-Baltic Diversity and Entrepreneurship Conference.
In the first year, we delved into leadership, followed by an exploration of innovation in the second year. Th
is time, our focus will be on entrepreneurship. Recognizing the pivotal role diversity plays in achieving success, this conference presents a dynamic exploration of the symbiotic relationship between diversity and entrepreneurship in the Nordic and Baltic regions.
Join us on this exciting journey as we explore the intersection of diversity and entrepreneurship. Whether you're an advocate for change, a seasoned entrepreneur, an aspiring startup founder, an investor, or simply curious about the magic that happens when different perspectives collide, this conference is tailor-made for YOU.
The entire program and list of speakers can be found HERE.