We're looking for a motivated, creative, and hands-on intern to work with our communication channels and marketing. As a communication intern, you will have a unique opportunity to gain 'real-world' experience and develop business-related skills with a focus on strategic cooperation between Lithuania and Sweden.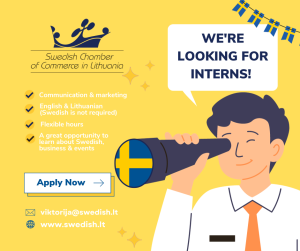 Are you a 3rd or 4th-year student in:
✅ Scandinavian Studies ✅ Communication, or ✅ Business?
We offer flexibility to accommodate your studies. Your main responsibilities will include managing the Chamber's external communication, such as social media channels and newsletters, as well as providing practical assistance with organizing and executing events.
Internship Description:
🟢 DURATION: Available now. The length of the internship is based on your availability but should be at least 2 months.
🟢 On-site/remote (we will accommodate your needs; we have an office in downtown, but you can work from anywhere).
🟢 TIME: Flexible hours.
You will work closely with the Managing Director and Project Manager, in a small team consisting of these two colleagues and yourself. You will be actively involved in executing the Chamber's daily administrative activities, setting up projects, organizing events, and managing long-term undertakings. Additionally, you are highly encouraged to take your own initiatives. The Swedish Chamber of Commerce encourages interns to participate as much as possible in Chamber's outward activities and offers the opportunity to organize your own events or study visits.
Duties and Responsibilities:
⚡ Working with the Chamber's communication channels, including social media, the website, and newsletters.
⚡ Assisting in preparing marketing-related materials (such as flyers and posters).
⚡ Drafting various newsletter messages and event invitations.
⚡ Providing practical assistance with organizing and executing events.
Requirements:
👉Currently enrolled in a university program or recently graduated, preferably in Communications.
👉Fluent in English, both orally and in writing.
👉Basic experience in design and creating layouts.
👉Highly motivated and business-minded.
👉Ability to take your own initiatives and work well in a small team.
👉Profound knowledge of social media tools and management, such as Facebook and LinkedIn.
Take a look at our website, LinkedIn, and Facebook pages to get an overview of our promotional materials and past events!
Contact us at viktorija@swedish.lt.
We are located at Talent Garden Vilnius (Vilnius St. 33).