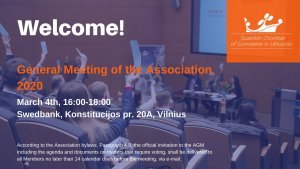 Dear Members,
due to the risk of Corona virus, the GMA on 4th of March will be only held in writing, i.e. the physical participation at Swedbank – is CANCELLED!
The voting in writing will take place on the 4th on March between 09:00-17:00 o'clock.
SCCL Members shall be provided with voting bulletin via email and will be asked to approve the draft agenda, Nomination Commission's candidate suggestion along with the amendments of the Articles of Association in writing and with signature (either signed by hand or electronic signature is allowed).
More details on the voting in writing procedure will be provided on 4th of March by email.
Thank you for your understanding and cooperation!
Some important information:
Kindly find the draft of the Meeting Agenda, the Association Report 2019, Proposal for Amendment of the Articles of Association and the document for the Power of Attorney attached in this invitation letter.
This year, due to the proposed amendments of the Articles of Association, the required quorum is 2/3. We therefore kindly ask as many as possible to participate in the General Meeting of the Association.
Only Members that have paid their annual membership fee have a voting right during the GMA. Therefore, kindly make sure to pay your annual membership fee if it expires until 4th of March and you have received an invoice from us. Each company is entitled only to one vote during the GMA.
If the sole Management Body of the company, who has the representation right according to the data of the Register of Legal Persons, is unable to attend and vote during the AGM, she/he shall issue a Power of Attorney signed (and sealed, if required under the respective AoA). The original Power of Attorney must be presented at the General Meeting of the Association.
Kindly find the following information here: Report 2019, GMA agenda 2020.
In case you have any questions, do not hesitate to contact the SCCL office!