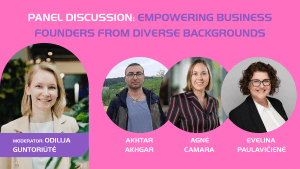 ⚡🎤 MEET OUR PANELISTS | Nordic-Baltic Diversity and Entrepreneurship Conference
📣 We are happy to present you one of the three panels, which will be moderated by our Managing Director Odilija Guntoriūtė.
Join us for an inspiring discussion on 'Empowering Business Founders from Diverse Backgrounds'! 🌟 We'll tackle migrant entrepreneurs' challenges in Lithuania 🇱🇹 and brainstorm ways to integrate them into our vibrant ecosystem. 🤝 Let's celebrate diversity and build a more inclusive business community.
Introducing speakers of the panel:
📌 Akhtar Mohammad Akhgar has a work background of more than 12 years with several International NGOs in different capacities 👨‍💼🌍. He did his first master studies in development management at Asian Institute of Management in the Philippines, Manila City. He is on his way to finish his second master at Vilnius Gediminas Technical University in the faculty of Business Management, department of Entrepreneurship and Digital Business. 🎓🚀📊
📌 Agnė Camara is an accomplished migration specialist 👩‍💼🌍, currently serving as the head of International House Vilnius. This center focuses on aiding newcomers with their relocation and integration. Agnė is committed to fostering an inclusive and diverse environment in Vilnius 🏙️🌈, ensuring that it becomes a convenient and welcoming home for all individuals, irrespective of their backgrounds. 🏠🤝🌟
📌 Evelina Paulavičienė is a recognized expert and the managing partner at Relokon. With an extensive background of over 5 years in the relocation industry, she has established herself as an authority on immigration matters. 🌍🏠 Evelina's exceptional expertise in immigration, housing, local infrastructure enables her to efficiently relocate individuals from diverse backgrounds and nationalities, ensuring a seamless and compliant process. Her professionalism and commitment to client needs make her a trusted partner in the field of global relocation. ✨🤝
🔗 Find more information about our speakers and programme: https://diversity.swedish.lt/
See you there! 👥💡
#NordicBalticDiversity #Entrepreneurship #InclusionMatters #LithuaniaBusiness