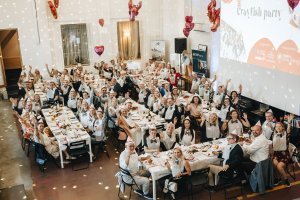 On the 7th of September, we had an amazing Swedish Crayfish Party, marking the perfect start to our new active business season. We received so many positive responses from participants, indicating that the event was truly #enjoyable and #cozy. We are genuinely happy to have had the opportunity to share the great #spirit of #swedish tradition with our community, create good memories together, and meet new people. ✨🌿😊
✨This event wouldn't have been as joyful without the wonderful #collaborations and #contributions from various individuals and organizations. We extend our heartfelt thanks to our host, Betono fabrikas, for providing the perfect venue for our event 🎪.
We are also grateful to VipCatering for the catering and cake services 🥞, Gubernija Brewery and Tomas Josas for supplying alcohol and beverages 🍻, and HappyBalionai.LT for adding to the cozy atmosphere with beautiful balloons🎈. Special thanks go to Tomas Green for his long-term partnership, DJ services, music, and impressive light performances.🎶 We'd also like to express our appreciation to Fotografė Mona Avik / moona.lt, who has captured pictures for us over the past 6 years, and to Paulius Dragunas, who captured moments and will be producing the video. It's been a pleasure working with you, guys! 😊
✨Additionally, we would like to express our gratitude to our main sponsor of the Crayfish Party, Fondia Lithuania 💜! as well as Rimi Lietuva 🦞 and Alliance for Recruitment💥 – our main supporters, for their contributions in ensuring an amazing and impactful experience for all participants. We also extend our appreciation to Embassy of Sweden in Vilnius/ Švedijos ambasada Vilniuje and Ambassador Lars Wahlund for his introduction and delightful #snapsongs performance. 😊
✨The event would not have been as amazing without the efforts of our Board Members, Jokke Nurminen and Jone Sestakauskaite, who played a central role in moderating the event, and Andrius Francas, who led the auction and secured Scania Lietuva as the main sponsor for next year (🎉congratulations!). Our association's founder, Jan Hannson, deserves recognition for his unwavering support. The office team, Odilija Guntoriute and Viktorija Janilionytė, were the driving force behind the event's success, ensuring that everything was executed perfectly. 💪
We feel immense gratitude toward all participants for helping us keep our #Community and #traditions #strong and #Valuable. Let's look forward to another one of our events soon, where we can share more joyful moments with you. Remember that you can also become a part of this wonderful community.