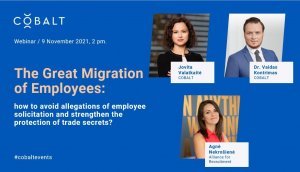 Join COBALT webinar "The great migration of employees: how to avoid allegations of employee solicitation and strengthen the protection of trade secrets?" on 9 November, 2 pm.
One of the unexpected effects of the pandemic is that more and more employees are changing jobs or even careers, and employers are also active in looking for new team members. Which actions might be regarded as the solicitation of employees, in other words, acts of unfair competition that are prohibited by law? Tensions in the labour market are rising and, as a result, there is a growing number of lawsuits and claims for unfair competition and employees solicitation.
During the live stream, COBALT Senior Associates Jovita Valatkaite and Vaidas Kontrimas, PhD will discuss with Agne Nekrošienė, a representative of Alliance for Recruitment, how to overcome these challenges when looking for employees.
Date: 9 November
Time: 14:00
More information: https://bit.ly/3BkYwGk
Registration: http://cobalt.zoomtv.lt
Webinar language: Lithuanian