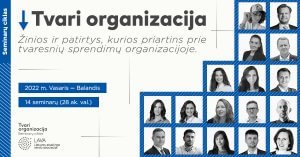 Colleagues from the Lithuanian Association of Sustainable Business LAVA organize a remote seminar course "SUSTAINABLE BUSINESS" and invite everyone who is interested in the issues of business sustainability to participate in the course.
After the research of the Lithuanian market and consultation with experts, LAVA prepared a course of 14 seminars (28 academic hours), which is focused on the most relevant issues for business related to the first steps of sustainability implementation, setting strategic guidelines for sustainability, assessing the impact on stakeholders. Also, such topics as environmental impact, CO2 footprint, green innovation and employee involvement as well as the organisation's sustainability reporting will be analyzed and discussed during the course.
SPEAKERS
The seminars will be led by 17 experienced sustainability experts recognized in Lithuania and abroad, who will share real practical examples of implementing sustainability in business and applying good practices in their organization.
You can find the speakers here.
KNOWLEDGE AND SKILLS 
The participants of the "SUSTAINABLE BUSINESS" seminar course, after completing the whole course, will acquire the basic knowledge of implementing the sustainability of organizations, which they will be able to apply and develop in their organization. This will be confirmed by a diploma issued by the Lithuanian Association of Sustainable Business.
14 seminars on key sustainability issues for organizations (topics can be found here);
Essential steps and perceptions of sustainability at the organizational level;
Good sustainability practices and examples for implementing sustainability principles in your organization;
SEMINAR COURSE 
The course will be held in Lithuanian except seminar (EN) on ESG.
The beginning of the seminar course is February 2, 2022
Duration – 3 months.
All seminars will be held remotely every Wednesday from 16:00 to 17:30.
The number of participants is limited.
Price of the seminar course:
EUR 990.00 per participant * (VAT not applicable)
For each additional participant (up to 4 persons) of the same organization – 99.00 EUR ** (VAT not applicable)
* Participation in the seminar course is free of charge for a representative of a LAVA member (one person).
** 50% discount for each additional (up to 4 people) participant of the same LAVA member organization.
LAVA gives SCCL members a 30 percent discount on tickets for the whole seminar course! Your discount code: SWEDISH-30 (enter the discount code in the discount field in the registration form).
YOU CAN PURCHASE SEMINAR COURSE PARTICIPANT TICKETS HERE.
More information about seminars and registration: https://asociacijalava.lt
If you have any questions, please contact us by e-mail seminarai@asociacijalava.lt or by phone 860505523