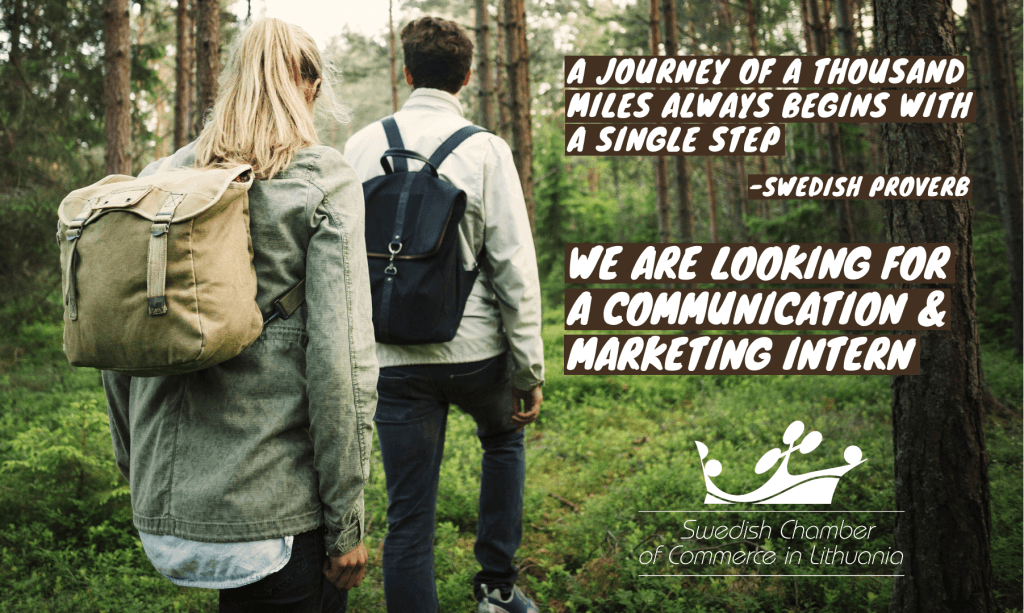 Communication and Marketing Internship
Internship description
The position of Communication and Marketing Intern will be available for 4 months – from February to June 2019, with the possibility to extend its duration. The internship will be at the Chamber's office in Gedimino avenue 20, Vilnius, Lithuania, and offers a unique opportunity to gain interesting and valuable 'real world' experience and to develop business-related skills with a focus on strategic business cooperation between Lithuania and Sweden.
You will work closely together with the Managing Director and Administrative Assistant, in a small team consisting of these two colleagues and yourself. You are actively engaged in executing the Chamber's daily administrative activities, setting up projects, organising events, and keeping track of long-term undertakings. On top of that you are highly encouraged to take own initiatives. The Swedish Chamber of Commerce encourages the intern to participate as much as possible in Chamber's outward activities and offers the opportunity to organise own events or organized study visits.
Duties and responsibilities
The Communication and Marketing intern's role primarily entails working with the Chamber's communication channels, such as website management, social media and the newsletter. You will assist in preparing marketing related material (such as flyers, posters, etc.), drafting various newsletter messages and event invitations. Lastly, the position involves practical assistance with organizing and executing events and any other tasks assigned by the Managing Director. Take a look at our website, LinkedIn and Facebook pages to get an overview of our promotional material and past events!
Requirements
Currently enrolled in a university program or recently graduated, preferably in Communications
Fluent in English both in oral and written form
Basic experience in design and making layouts
Highly motivated and business-minded
Ability to take own initiatives as well as to work in a small team
Profound knowledge of social media tools and management, such as Facebook and LinkedIn.
Preferable qualifications
Practical work experience and/or extracurricular activities from within the web/communications or marketing industry
Familiar with Adobe Photoshop and WordPress
Familiar with journalistic writing
Knowledge of the Swedish and/or Lithuanian language is a merit
Previous international experience with studying and/or working abroad
There is no financial compensation for this position from the Chamber's side, but candidates might be eligible for a scholarship from their university.
Applications are accepted until the 24th of January 2019 and should be submitted to info@swedish.lt. The interviews will start running before the deadline so please apply as soon as possible.