Dear Members,
a few weeks ago, the Board held a virtual membership workshop and discussed additional member value, as well as, a sustainable annual membership fee strategy for SCCL Members hit by the Corona virus. The workshop resulted in a COVID-19 membership rescue package targeting the most vulnerable members.
The offer is presented below:
Member companies included in the list of the State Tax Inspectorate, which are worst hit by the coronavirus crisis, will be offered a Covid-19 rescue package: 6 months of free-of-charge Membership counting from the membership expiration date in 2020.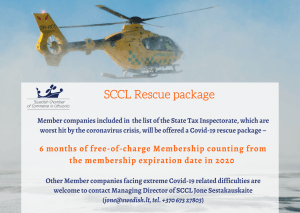 We really hope that this membership rescue package offer will contribute positively to the challenging situation your company is facing at the moment and will enable us to stay together in the future!
If your company experiences extreme difficulties related to the Corona crisis, or you have any questions regarding the rescue package, please contact: Jone Sestakauskaite (Managing Director), jone@swedish.lt
Look forward to our continuous collaboration and stay well!