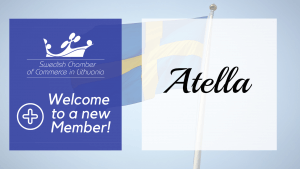 Atella was launched in 2015 with dresses collection which later on expanded and new categories were added, such as: trousers, blouses & skirts. They believe in quality over quantity and its's the main reason why they are always shifting to the slow fashion concept.
Atella is one of the branches of Tebesa. Established in 1996, Tebesa is a Lithuanian capital company. During the first decade of its appearance, a company was offering sewing services for Lithuania's, Denmark's and UK's clients. After working with the local market, Tebesa started supplementing a list of their clients with companies, brands from Scandinavia and other EU countries. In 2004-2009 Tebesa was acknowledged as one of the fastest-growing companies in Lithuania and received a "Gazele" nomination. Now, the company is specializing in providing clients with a wide range of women's tricot garments made by the well experienced people from the industry, using the modern equipment and guaranteeing the best quality product.
Being in the clothing industry for more than 20 years, Atella team gathered the best experience in designing and manufacturing womenswear that is functional, versatile and most importantly, high quality. All our pieces are currently designed and manufactured in-house. It helps us to fully control the manufacturing process and create a great final product with an affordable price.