10th European Banking & Finance Conference: NAVIGATING THE NEW REALITY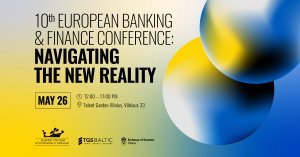 Nine annual conferences provided a platform to exchange ideas on financial sector trends and their impact on traditional banking, businesses, and consumers. Many trends have been foreseen, but not the war.
The 10th Conference was meant to address sustainable finance, and this topic will be present. But the short and long-term impact of the war and possible solutions for businesses, while keeping the focus on resilience, adaptation, and sustainable recovery, will now prevail.
How to navigate properly in this already changed banking and finance environment?
This Conference is for businesses as well as banking sector representatives. Do not miss a unique opportunity to learn about the future of Ukraine and Lithuanian finance.
🔹Speakers and programme: banking.swedish.lt
🔹Date: 26 May 2022 
🔹Venue: Talent Garden Vilnius (Vilniaus str. 33, Lithuania)
Hybrid event, physical and online presence is available.