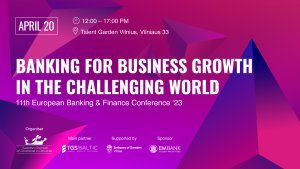 11th European Banking & Finance Conference with the topic: 'Banking for business growth in the challenging world' will be held on the 20th of April in Talent Garden Vilnius and virtually.
Ten annual conferences have already been held to exchange ideas in financial sector and their impact on traditional banking, businesses and consumers.
This year, the conference aims to link diverse sectors' thought leaders together to inspire ideas and provide new perspectives. Navigating in the region that is being tested by macroeconomic uncertainties and geopolitical risks calls for both traditional and progressive solutions.
How to bolster BUSINESS resilience, productivity, competitiveness, prosperity and sustainability, and facilitate GROWTH opportunities?
Find more information about our speakers and programme: banking.swedish.lt
Date: April 20, 2023
Time: 12:00 – 17:00
Venue: Talent Garden Vilnius (TAG) / Online
Resigtration: here
The event is organized together with TGS Baltic and supported by Swedish Embassy in Lithuania. Thanks to our sponsor European Merchant Bank!