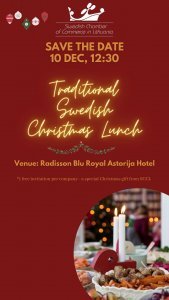 We are cordially inviting you to a Traditional Swedish Christmas Lunch at Radisson Blu Royal Astorija Hotel, Didžioji st. 35, on the 10th of December at 12:30!
The event is exclusively for Members only as a sign of gratitude for your support to the Swedish-Lithuanian business community.
Join us and taste, smell, experience traditional Swedish drinks and food together with other members of the SCCL community. Lucia choir concert will also take place, which is a part of traditional Swedish Christmas that cannot be missed.
Thus, please SAVE THE DATE 10th of December and let's start the Christmas season together with a taste of Swedishness!
*1 free invitation per company – a special Christmas gift from SCCL