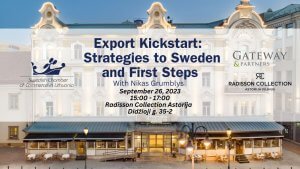 Join us for the "Export Kickstart: Strategies to Sweden and First Steps" seminar, hosted by the Swedish Chamber of Commerce. We are thrilled to have Nikas Grumblys, a seasoned expert and partner at Gateway & Partners, as our distinguished speaker. With over 7 years of experience assisting Lithuanian companies in expanding their presence in markets such as Sweden, Norway, Germany, and many others, Nikas Grumblys is uniquely positioned to provide valuable insights into the Swedish market.
Gateway & Partners, a company with a remarkable 19-year history, has been a pioneer in delivering export partner search and market research services. Co-founded by a Swedish native, Kim Petterson, the company has maintained a steadfast focus on the Swedish market throughout its existence, making it the top priority market for all of its clients.
During this seminar, you will gain essential knowledge and practical strategies for successfully entering the Swedish market, making it an excellent opportunity for businesses looking to expand their international reach. Don't miss this chance to kickstart your export journey to Sweden and take the first steps toward international success.
The seminar is hosted by our member Radisson Collection Astorija Hotel
To register for the event, registrate via link https://forms.gle/JNHqcm1VLgCYjQ1fA
DATE: 26th of September, 2023
VENUE: Radisson Collection Astorija, Didžioji g. 36-2
TIME: 15.00-17.00
There is no participation fee
WORKING LANGUAGE: English
We look forward to seeing you there!