You are cordially invited to attend the annual Nordic-Baltic Diversity & Entrepreneurship Conference, where you will have the privilege of networking with globally renowned speakers.
This conference seeks to explore the trends of diversity, inclusion, and entrepreneurship within the global business and political landscapes. We encourage you to seize this exceptional opportunity to hear from top executives of international corporations and esteemed high-level experts.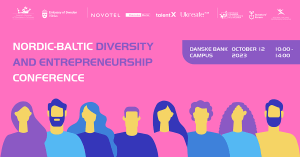 DATE: October 12
TIME: 10:00-14:00
VENUE: Danske Campus, Saltoniškių g. 7b, Vilnius (DC Valley)
Building upon the success of the first two conferences on Diversity & Leadership, as well as Diversity & Innovation in the Nordics-Baltics over the past two years, we are delighted to announce that the Diversity-focused event is now firmly established as an annual tradition. While diversity encompasses a wide spectrum of themes, this year we are directing our attention to four primary focal points.
International Entrepreneurs: Embracing narratives across borders, this segment will shed light on the journeys and challenges faced by international entrepreneurs. It will underscore the role of cultural diversity as a catalyst for innovation and growth.
Gender Gap: This segment will address gender imbalances, shining a spotlight on women leaders. It will explore strategies to dismantle biases and avenues to empower women within the business realm.
Accessibility: Envisioning an inclusive business landscape, this block will delve into catering to the needs of disabled customers and potential employees. Topics covered will span design, technology, marketing, and policy.
LGBTQ+ Inclusion: Advocating for LGBTQ+ participation, this section will delve into establishing LGBTQ+ inclusive workspaces, networks, and avenues for entrepreneurship.
We are delighted to extend an invitation for you to participate in these discussions. As such, we cordially invite you to join us for our third event dedicated to Diversity, with a specific focus on Entrepreneurship.
Thus, this half-a-day conference will explore the aforementioned phenomena with specific case studies and success stories, focusing on the practical applicability, and will give you a chance to have a practical discussion on the matters of Diversity and Entrepreneurship in the Baltic and Nordic regions.
The conference is jointly organized in collaboration with the Embassy of Sweden in Vilnius and supported by Danske Bank, TalentX, Ukreate HUB, Novotel, with communication partners: Investor's Forum, PVPA, Estonian Chamber of Commerce in Lithuania.
THE WHOLE PROGRAMME WILL FIND HERE
Join us by buying live ticket!
Live tickets for Swedish Chamber of Commerce in Lithuania members: 30€
Live tickets for Personalo Valdymo Profesionalų Asociacija members: 30€
Live tickets for non-members: 50€
The total price will include the added VAT.