Welcome to join our upcoming webinar in the Swedish Business Fika series: INVEGA measures for business during #COVID-19, powered by the law firm WALLESS!
When & where: Thursday, April 23rd at 2-3PM
Language: Lithuanian
Participation fee: free-of-charge, only for Members of the Nordic Chambers of Commerce (Danish, Finnish-Lithuanian, Norwegian-Lithuanian and Swedish)!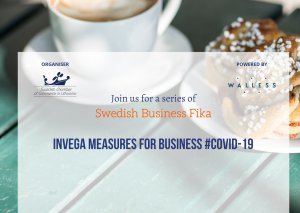 Meet the experts:
Aušra Brazauskienė, Associate Partner at WALLESS
Enrika Tamašauskaitė, Senior Associate at WALLESS
The webinar will be focusing on the requirements for businesses seeking to apply for support in order to deal with liquidity & financial problems caused by the Covid-19 crisis. More than EUR 1.1 billion is to be distributed through Investicijų ir verslo garantijos "Invega" to Lithuanian businesses from the government's financial package.
1-pager prepared by the lawyers at WALLESS with more information on the financial aid instruments for businesses offered by "Invega" during
#Covid
-19 crisis can be found here
https://bit.ly/3eIRbq6
(in Lithuanian) and
https://bit.ly/2VrF2xV
(in English)