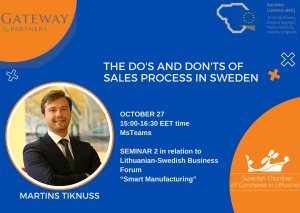 A seminar for companies that would wish to avoid mistakes when entering the Swedish market.
Gateway & Partners, formerly GatewayBaltic, was established in 2004 and is specialised in developing local exporters internationally. Their mission is to boost our customers' export sales by introducing them into new markets and discovering vital market information. They now are a network of market professionals across countries offering you local market insights and professional assistance.
This event is solely for the Members of the Swedish Chamber of Commerce in Lithuania and participants of its business mission to Jönköping.