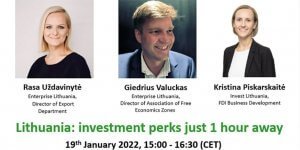 Yes, "Litauen" (in Swedish) is called Lithuania in English and it is even less than an hour away from the biggest Swedish cities. Sweden is Lithuania's number one foreign investor, and a strategic market.
Lithuanian Professionals Club in Stockholm and the Swedish Chamber of Commerce in Lithuania invite you to explore the potential of the neighbouring country as well as the vast business opportunities it provides.
AGENDA
15:00 – 15:20 Invest Lithuania: Foreign Direct Investment Potential, Kristina Piskarskaitė, FDI Business Development, Manufacturing Operations.
• Lithuania's investment environment – key facts and figures.
• What gives Lithuania the edge?
15:20 – 15:40 Enterprise Lithuania: Export Potential, Rasa Uždavinytė, Director of Export Department.
• Lithuania–Sweden bilateral trade – key facts and figures.
• What gives Lithuania the edge?
15:40 – 16:00 Association of Free Economic Zones: Lithuania as a manufacturing hub. Swedish business cases, Giedrius Valuckas, Director of the Association of Free Economic Zones.
• Business cases: ROL, Pelly Group, BE-GE, KB Components, Ikea Industry Lithuania.
• 7 Free Economic Zones: State incentives for investors.
16:00 – 16:30 Q & A session
What is needed from you: A computer with a webcam and a good Internet connection. A great mood and curiosity to ask questions and a cup of coffee/tea would not go amiss.
Registration: Please register until 1 p.m. CET on 19th January.
Participation fee: This event is free of charge.
Platform: ZOOM; connection details will be emailed the night before.