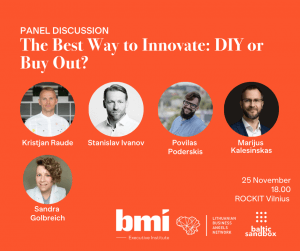 The business world is moving fast these days, and companies that are strategizing their future know that innovations must be a part of their plan. In this scenario, companies face not just the local competition, today they have to compete globally. This brings completely new challenges: how to spot trends, how to reinvent your own business or how to invest or acquire the solutions that fit your product portfolio? In some cases, it's 5x more expensive to build a new product in-house, so buying out a successful team from the other country – is the way to go.
BMI Executive Institute together with partners Lithuanian Business Angels Network and Baltic Sandbox invite you to the meeting with investors from different backgrounds, who will discuss how to incorporate innovations and investments in your plan and how they correlate driving the change.
On the panel, we will have angel investors with years of experience and numerous closed deals, as well as the representatives of the corporate world, who live by the rule of innovating or dying.
They will talk about the necessity for the corporate world to work with startups, not only to have a better future financial return but also allowing to build new partnerships that drive innovations and create access to knowledge.
On our panel:
Kristjan Raude, Board Member at EstBAN, Chief Growth Officer at Funderbeam, Estonia
Kristjan Raude is a 3-time founder turned angel investor with a portfolio of close to 30 companies, lead investor to 5 rounds. Selected companies from the portfolio: Promoty, UpSteam, Ampler Bikes, Funderbeam, Biig Technologies, ATOM Mobility, Adact, Stebby, Bikeep, XOLO, GuavaHR, Cleveron, Fermi Energia, Cuploop, Ender Turing, Sharewell, Lexi.Market, VSight.
Stanislav Ivanov, Founding Partner at Tera Ventures, Estonia
Stanislav Ivanov is a Founding Partner at Tera Ventures and currently sits on the board of Cleveron, Monese, Jobbatical, Scoro, Brainbase, Snackable and others. Stanislav has been investing in technology startups for more than 10 years and his track record includes some of the most remarkable high-tech companies that came out of Estonia. He is also a mentor at various incubators and accelerators. Prior to founding Tera Ventures, he was with IBM for 6 years and has a background in telecom and information technology industries, having led teams involved in innovative projects such as bringing early mobile services to the market in the late 1990s.
Povilas Poderskis, COO at Nord Security (part of TESONET Group), Lithuania
IT and management professional with experience in public office, traditional businesses and startups. He's currently working as a Chief Operations Officer at one of the fastest-growing ICT and Cybersecurity companies – Nord Security. Nord Security offers a full scale of products for nearly all of the countries on the globe. The company is also investing in in-house projects as well as operates as an investor in other companies.
Marijus Kalesinskas, Advisor and Partner at GENUS Family Office, Lithuania
Marijus has over 20 years of professional experience in investment management. After graduating from Stockholm School of Economics in Riga in 1997 he began working at Hansa Asset Management. Afterwards, he worked for 10 years at SEB group (as Chief Investment Officer at SEB Investment Management and Head of Securities Brokerage). Later he headed the Investment Management Department at the Bank of Lithuania (the central bank). He also is a graduate of the EMBA program of BMI Executive Institute. Currently, he advises wealthy Lithuanian families on wisely diversifying and investing their assets.
Moderator – Sandra Golbreich, Baltic Sandbox
CEO and co-founder of Baltic Sandbox accelerator, early-stage investor, mentor at different European acceleration and incubation programs and hackathons, women in tech and diversity advocate. Co-founder, CEO, and lecturer at Business Angel School: education programs for the EU-based business angels.
When: 18.00, 25 November 2021
Where: ROCKIT Vilnius, Gynėjų str. 14, Vilnius
Registration opens until 24 November.
The event will also be broadcast live online.
A valid Covid Certificate is required for all participants on site.