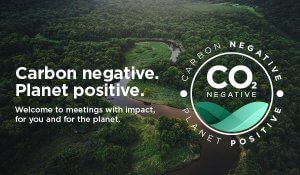 Radisson Hotel Group is proud to be the world's first hotel group to make all meetings and events across 400+ hotels in its EMEA portfolio carbon negative. For every event taking place at its participating hotels, Radisson Hotel Group will offset double the carbon footprint, to ensure that every meeting has a positive impact on the environment.
 They do this automatically, and at no cost to you, by offsetting double the CO2 emissions that the meetings and events held at our hotels produce, making them carbon negative.
Carbon Negative. Planet Positive. will be available from October 18, 2021 to January 31, 2022, for meetings and events taking place between October 18, 2021, and March 31, 2022.