Dear Colleagues,
It is my great pleasure to announce that Grand Hotel Kempinski Vilnius will finally reopen its doors this Wednesday, 1 July 2020.
 Kempinski_VNO_Reopening V3.mp4
(Click to see our reopening video)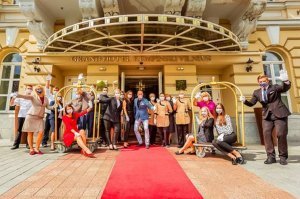 It has been a long and challenging time of non-operation due to reasons we all know. That's why we are now even more excited to be back, more passionate, motivated and driven to succeed than ever before. It will be different, it will be challenging, but after all, we will focus on what we do best – delivering beautiful performances to all our guests.
With this, I invite you all to experience one of Europe's true hidden gem for yourself. Vilnius & Riga were recently named by Forbes as one of the safest places to travel to in Europe, so why not explore the Baltics together with our sister property in Riga which is just 3 hours away by car.
Stay blessed everyone and look forward to welcoming you to beautiful Vilnius very soon.
Sunny regards,
The Team & Kai