On June 12, Lithuanian Honorary Consul in Gothenburg Birgitta Jacobsson Ekblom welcomed Lithuanian company ioco packaging.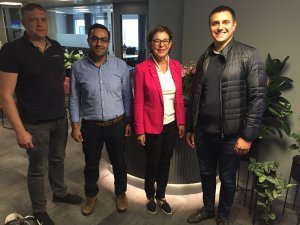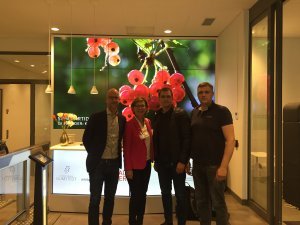 Two representatives of the company: Martynas Jasulaitis, Export Sales Manager  and Žilvinas Jakšys, Technology development engineer, had a full day programme visiting companies and NGOs in Sweden, exploring business opportunities and looking for new customers. This was a follow up visit from their participation as exhibitor at the Scanpack fair at the Swedish Exhibition Centre in Gothenburg last autumn.
Honorary Consul Birgitta helped them to arrange visits to the West Sweden Chamber of Commerce, where they met Jesper Öhrn, Manager for International Business Development. Also, they met Business Region Göteborg/Enterprise Europe Network (EEN) representative Seymur Badirkhanov, Business Advisor.
This is one of the great examples of proactive Lithuanian companies that are looking for opportunities to find customers in Sweden, therefore, looking for contacts and learning about business opportunities in the region. This is what we, SCCL, also encourage you to do!