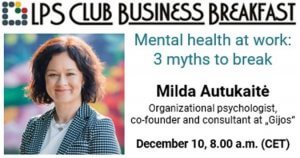 LPS Club Business Breakfast is a new format of the Club's events aimed at facilitating the development of professional networks across Sweden and Lithuania, as well as enabling the exchange of market insight, experiences, and best business practices.
This time the Club is inviting you to meet Milda Autukaitė, organisational psychologist, organisational development and leadership consultant, co-founder and consultant at "Gijos".
Milda has worked in various HR managerial positions at Swedbank for more than 17 years. Organisational culture and leadership development have always been her great professional passion, as was her determination to dive into deeper work when it comes to organisational development. She trained at the Tavistock Institute of Human Relations and became a consultant grounding her work on psychodynamic systemic ideas and concepts.
Mental Health at work – a topic that has been widely escalated during the pandemic – is a very complex field. Curiosity and belief in the importance of mental health at work inspired Milda, with partners, to launch "Gijos", an organisation helping to create an organisational culture that supports mental health.
Milda will discuss with us the 3 mental health at work-related myths:
"There are 2 types of people in organisations – mentally healthy and not"
"Mental health at work is an individual issue"
"Mindfulness and psychological support can solve it all"
Registration: Please register until 7 p.m. CET on 9th December.
Participation fee: This event is free of charge.
Platform: ZOOM; connection details will be emailed the night before.