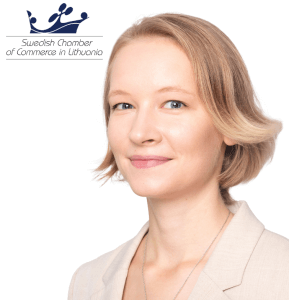 We would like to introduce you to a new Managing Director of Swedish Chamber of Commerce – Odilija Guntoriūtė: "I am very grateful for this opportunity to work as a managing director of Swedish Chamber of Commerce in Lithuania. Can't wait to meet all the members – my new community.
I started my career as an intern in Lithuanian embassy in Sweden – so I have a special connection to Sweden. Building bridges between Lithuania and Sweden will be a pleasant task.
My experience in Amber Trip cluster, Lithuanian IT association Infobalt and Lithuanian business angel association has taught me how communities are built and connections are made.
SCCL is one of the strongest networking organizations in Lithuania. Seeing how actively involved the board members are, shows me that together we can achieve a lot."