The lights in the tree on Vilnius's Cathedral Square have been lit, markets have sprung up everywhere and the first snow has fallen – it is Christmas time and time for SCCL's annual Christmas event! Therefore, both members and non-members got together in Radisson Blu Royal Astorija Hotel on December 11th. No traditional Swedish Christmas evening this time, but something different: "Taste, feel, smell, hear and see Swedish Christmas" was the title of this year's Swedish Christmas lunch, aiming to stimulate all five senses.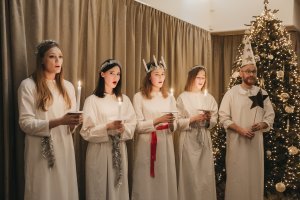 Guests to the Christmas lunch were welcomed with Swedish glögg, gingerbread cookies and a candle in one of Astorija's halls. Questions about what to do with the candles arose among the group, but this uncertainty was taken away after a few minutes: a choir made up of Vilnius University Scandinavistics students entered the hall singing. Led by the candle-crowned Saint Lucia, the students wore typical Swedish Lucia garments and lit every guest's candle. The choir then led the way through the hallway to the lunch room, where everyone put their candles on a table. Amazed by the beauty of the lunch table and the choir, many started taking pictures. After the guests had taken their seats at the one long table that was decorated by Flower Shop by Inesa, they were welcomed by SCCL's chairman. The choir sang a few more Lucia songs and left the room under a warm round of applause.
Every course of the lunch was made by Astorija's chefs, and introduced by a Swede who told something about the food and about a typical Swedish Christmas tradition. The first speaker told something about the sweetness of Swedish herring, about how Swedish graved lax entered the dictionary of the world and about the connection Swedes have with their waters. Afterwards a video about water and ice was shown and the herring and salmon was served on what looked like sheets of ice. While enjoying the fish, guests were accompanied by visuals and sounds of a snowy Swedish river.
After everyone finished their first course, another anecdote about Swedish Christmas was told by a Swede in full traditional Swedish costume. He elaborated on the tradition of eating meatballs and ham during Christmas as these meats were served. This time they were eaten accompanied by a background of a winter forest.
For dessert porridge was served and the last Swede told the guests about this last course. In Sweden, every farm has a little bearded man – a tomte – protecting it. As a payment for his services, Swedes must put a bowl of porridge in front of their door during Christmas Eve. Tomtes can be naughty creatures, though, and this year the tomte protecting Astorija had stolen all but one almond in the porridge. The one that found it is believed to have good luck during the next year. Dessert was enjoyed accompanied by Disney movies – another Swedish Christmas tradition. After the dessert everyone received a little Christmas present, enjoyed some Swedish Christmas songs and each other's company and some took a picture with a tomte before heading back to work or home.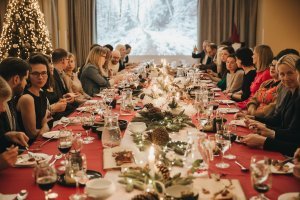 From the taste of the welcome glögg, the feel of Lucia candles, the smell of a pine forest, Christmas ham and meatballs, the sound of Swedish Christmas songs and the visual of a beautifully decorated lunch table, we sincerely hope you have enjoyed celebrating Christmas with SCCL. Lastly, whether or not you have attended this Christmas event, SCCL wishes you a warm and cozy Christmas!
More pictures of the event can be found here.
By Jordi Bakker