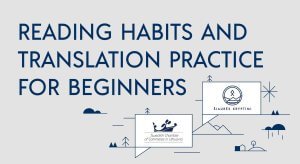 Språkcafé – Reading Habits and translation practice for beginners
All those who have taken part in the traditional language cafés organized by
"Šiaurės kryptimi"
and the
Swedish Chamber of Commerce Lithuania
and all lovers of Scandinavian literature are invited to Språkcafé on the theme of reading and reading habits. 
You will listen and converse about books, reading habits, and the latest Swedish books worthy of your attention. At the end of the workshop you will consolidate your language practice with a translation exercise. 
It doesn't matter what your level of Swedish is, all that matters is the desire to practise 
, to chat, to meet new people and learn new things!
Språkcafé 
is the space to improve your spoken Swedish skills, learn something new, broaden your horizons and expand your vocabulary, and we look forward to welcoming you to join us.
DATE: 10 May (Wednesday), 19:00 (GMT+3)
VENUE: online
REGISTRATION: is required
The event is free of charge.
Online link will be sent before the event.
Vi ses där!