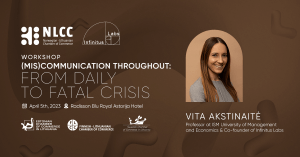 Crises in life and work are inevitable. The number of crises organisations face has recently increased significantly – organisational challenges arise due to the unstable global economic and political situation, post-pandemic environment and war.
Since the best way to prevent problems is prevention, we would like to invite you to workshop (MIS)COMMUNICATION THROUGHOUT: FROM DAILY TO FATAL CRISIS that aims to provide participants with the essential elements of crisis communication.
During the workshop, we will briefly:
discuss the best crisis communication methods and practice the crisis communication management framework, which could be used to manage from small daily to fatal organisational crises.

The workshop's main focus is the practical applicability of knowledge through crisis communication using NORDIC and GLOBAL business case analysis.
Workshop is held by Prof. Dr. Vita Akstinaite – a Co-founder of Infinitus Labs and a Professor at ISM University of Management and Economics, specialising in communication and leader development.
Date: April 5, 2023
Time: 9:30 – 12:00
Place: Radisson Blu Royal Astorija
Registration and programme: https://bit.ly/3kPVuYB
Norwegian – Lithuanian Chamber of Commerce
Estonian Chamber of Commerce in Lithuania
Finnish-Lithuanian Chamber of Commerce
Swedish Chamber of Commerce in Lithuania