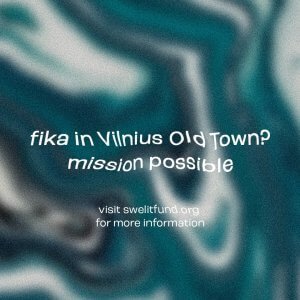 Create your own Swedish-Lithuanian partnership!
Our partner Sweden-Lithuania Cooperation Fund is open for applications for grants emphasizing cooperation projects between the two countries. The application period: February 15th – April 1st.
Network building
The Sweden-Lithuania Cooperation Fund supports the development and implementation of promising project ideas. Particular attention is given to exchange and cooperation for network building, preferably between young people, to promote social cohesion, creativity, innovation, and development of ideas about new enterprises.
Who can apply?
The rules are simple: anyone can apply to the Sweden-Lithuania Cooperation Fund, individuals, working groups, associations, organizations, companies, etc. Swedish or Lithuanian citizenship is not a requirement, but applicants must reside in either of the countries.
What amounts are possible to apply for?
Until 2023 the Board has allocated more than 100 000 EUR for various organizations in Sweden and Lithuania. Last year the Fund received 92 applications, 13 of those received grants. The average amount was EUR 2 800.
More information: https://swelitfund.org/