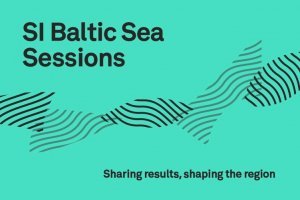 The launch of the "SI Baltic Sea Sessions – sharing results, shaping the region" on 8 November 2021 is approaching. Don't forget to register before noon on 8 November.
The SI Baltic Sea Sessions is a new digital initiative in which we explore results and lessons learnt through projects and programmes funded by the Swedish Institute in the Baltic Sea region. We also explore how the collaborations can be expanded and used as a basis for further funding and ultimately future solutions in the region.
The Swedish Institute plans to arrange four sessions yearly on various topics linked to the development of the Baltic Sea region. Each session deals with a specific topic and showcases projects and initiatives that have contributed to the progress and sustainability of the region. Projects or activities that are presented can involve all SI's 15 programme countries.
At the launch on 8 November, Swedish Institue will present the initiative SI Baltic Sea Sessions and give a brief overview of the support provided by SI. We will also present examples of successful cooperation built on support from the Swedish Institute which resulted in further EU funding and long-term collaborations.
In addition, you will get a sneak peek at our upcoming call of the funding scheme "Seed funding for cooperation projects in the Baltic Sea region" which could be used to prepare new collaborations aimed at solving the challenges of the region.
When: 8 November 2021, 13:00 – 14:30 (CET)
Where: The session will be held on Zoom in English.
Registration: Register via this form no later than noon 8 November.
A Zoom link to the launch will be sent with your confirmed registration.