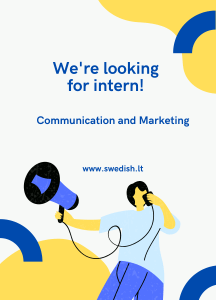 Are you a 3rd or 4th year student majoring in:
Scandinavian studies
Communication, or
Business?
We are offering compatibility with your studies!
Your responsibilites will include chamber's external communication, such as social media channels and newsletter

, as well as practical assistance with organizing and executing events.
Let's work together to promote
🇱🇹
and
🇸🇪
business cooperation!
We are located in Talent Garden Vilnius (Vilnius st. 33).