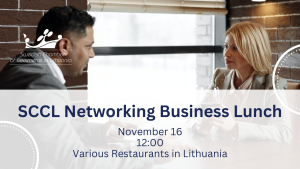 The Swedish Chamber of Commerce in Lithuania invites its members to a special Networking Business Lunch. This business lunch is designed to foster closer connections among our members and create a dynamic platform for meaningful networking.
Event Details:
DATE: November 16, 2023
TIME: 12:00 PM
LOCATION: Various Restaurants in Lithuania
REGISTRATION: https://forms.gle/tedyfXxUjCBiFgBU6
ONLY FOR MEMBERS
 HOW IT WORKS: 
Group Formation: After registration, we will strategically group participants into sets of six people. This thoughtful arrangement will allow for productive discussions and meaningful interactions.
Restaurant Reservations: Our team will make restaurant reservations at a variety of top-notch dining establishments across Lithuania. You will receive an email specifying the restaurant you have been assigned to in advance.
Networking Lunch: On the day of the event, November 16th, we kindly request your presence at the assigned restaurant at 12:00 PM. You will have the pleasure of enjoying a delicious lunch with five other SCCL members in a relaxed and convivial atmosphere. Please reserve at least 1,5 hour, as 1 hour usually is not enough.
Please don't hesitate to reach out to us if you have any questions or require further information: viktorija@swedish.lt
Thank you for being a part of our vibrant business community. We hope to see you at this exciting business lunch event!