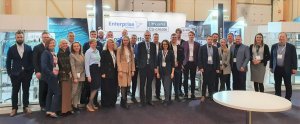 Week 45 was very special to us since Northern Europe's leading subcontractor fair Elmia Subcontractor was taking place in Jönköping. Since we plan to bring manufacturing and IT Lithuanian business mission to this region next fall, we simply could not miss the opportunity to visit!
It was an extraordinary visit on so many levels. Sweden´s different approach to Covid restrictions was nothing in comparison to the people our very own Laura Burauskienė has met. Lithuania´s Honorary Consul Gunnar Lans, Handelskammaren i Jönköpings Län Annika Cederfeldt, Science Park Jönköpings län Gustav Österström, Pelly Group's Sara Berglund, Jönköping International Business School's Jerker Moodysson, Jönköpings kommun Patrik Holst – each of these people are experts in their field, but their knowledge and sincere interest in cooperation are topped with unmatched warmth and openness.
It was also great fun to participate in the LINPRA – Engineering and Technology Industries Association of Lithuania event. Not only our dear members Hennordic, ColibrisODM and Investment Partner were there, Invest Lithuania: Manufacturing, Embassy of the Republic of Lithuania in Sweden and active Lithuanian companies were doing their best in strengthening ties with Sweden and Jönköping region.
President of Association of Free Economic Zones of Lithuania, Giedrius Valuckas was also active in spreading the word about the FEZ concept and its tremendous incentives, just like Karolis Pilipauskas and Rokas Gimžauskas. Indeed, everyone at the fair was open for a chat, especially MasTec's Sakib Masic, XANO Industri AB's Matz Svensson, LINAK's Henric Enell, Dibo Produktionspartner Hans-Erik Svedin, SVEGEA OF SWEDEN AB, SMEMO AB, Niklas Lindberg Linto-Lindefors Hook, NTG Air & Ocean and people from DS Smith.
Got plenty of needed and well-appreciated information for our own business mission to Jönköping which is planned to happen next fall!